Here at USA Electrical Repairs Inc, we want you to be safe. That's just one of the reasons that we offer a top-notch emergency electrician in Los Angeles service. We know that sometimes homeowners or business owners have unexpected problems with their electricity. Whether your problems are overloads, short circuits, flickering lights, electrical surges or whatever you can tell us, our professional electricians can repair it for you. And, of course, if you need an emergency installation, we got your back, too. From Los Angeles to Humboldt Hill, we can get you the assistance wherever you need it, whenever you need it.
Did you have a short circuit? Then don't try anything by yourself and call us right away. We will be there as soon as possible and will perform professional work for you. Is there an overloaded circuit or short-circuited panel? Again, these works are supposed to be done by professionals because they are high-risk activities. It's better if you stay safe and wait for our emergency electrician to help.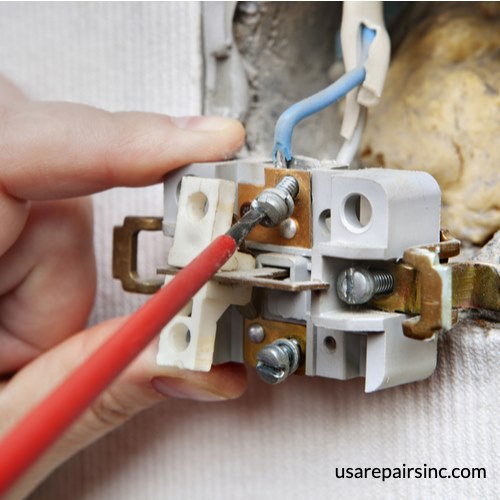 Fully Equipped Emergency Electrician in Los Angeles
With every necessary tool for your specific instance, our emergency electrician will not let you down. Below are just a few of the tools we can use to make sure that your job is done right:  
Electrician's tool belt, these allow us to stay organized. Able to hold plenty of tools, this can assist with practically any job. We use voltage sensors to check if there are problems with any connection, or if there's a wrong current fluctuation.

Wire strippers to perform wire connections or corrections with no danger. 

Linesman pliers, to help the electrician at the moment of pulling, putting or cutting a wire. These are very useful in our job.

Fish Tape, a steel wire that helps our electricians when performing a rewiring for you.

Insulated Screwdrivers, these tools protect against electric shocks up to 1000V.
In addition to this, we always include tape measures and safety glasses. 
Great Quality, Budget-Friendly Services
You don't have to pay thousands of dollars for emergency service. Even in the case of you owning a large building and need to rewire it from scratch, we can help. Regardless of your situation, we have prices that won't empty your budget. 
There are companies that will offer you very high costs for lower quality services than ours. Over the years, this is why so many have turned to us because they know they'll get the right service at a good price. Great communication skills, time management and attention to detail: that's just the beginning of what our professional electricians offer. 
Contact Us
Decades of experience in the area, training, licensed and insured: that's our emergency electrician in Los Angeles. We're here to help you with every possible electrical problem you may have. Search through our website and see what services and discounts we can offer to you! Or, you can call us at (800) 708-2190 and ask us about our services!