If you are embarking on a renovation project for your office, there are many things to consider like hiring a licensed electrician. They include keeping in mind the electrical components and other mechanical systems in the property. It is very tricky trying to renovate or extend office space because of all the electrical wires passing through the wall or over the ceiling. How can you pull it off? Here are some practical tips you can follow through when a commercial office space is being renovated related to the electrical aspects: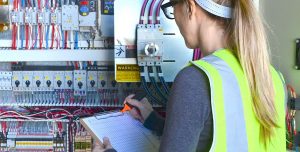 Conduct a thorough assessment of the building
Before you start doing anything on site, take a step back and assess the building as a whole and maybe electrical wiring trends locally. You can also even ask for blueprints, electrical wiring diagrams, and other architectural plans that mark mechanical or electric components. Conduct a thorough assessment of the wiring and all electrical outlets located throughout the office. You can then start planning your work around that information to avoiding ripping any electrical cords.
Ensure that the renovated electrical systems are compliant
You might need to update the electrical systems during the renovation to accommodate the building's changes. In that case, you should contact a licensed electrician skilled in commercial property electrical systems. The electrician will ensure that the new adjustments are compliant and will be satisfactory to the inspector. That will help you get all the certification needed to be regarded as a compliant commercial property that can be occupied again.
Considering using energy-efficient lighting
An office renovation is a prime opportunity to update the lighting to more recent systems that are more energy-efficient. You can get your local electrician on call to help with energy-efficient solutions that are the best fit for the building you're renovating. They might recommend getting more energy-efficient fluorescent lights with adequate reflectors to light up more space for less energy. Doing so will significantly reduce the costs incurred by running and maintaining the property.
Collaborating with the interior design team to place lighting
The interior design team already has visualizations and plans for the renovated room. Therefore, they are the best team to collaborate to figure out where the lighting should be placed. You can search for a local electrician near me and put them in touch with the internal design team so they know where lighting electrical wires should be. Once the office has been renovated, the electrician will return and complete the lighting fixture installation.
Call us today for your commercial property electrical systems during a renovation
If you are undertaking a commercial office property renovation, do not try to handle the electrical components yourself. Instead, you can reach out to us by calling on this number (818) 492-4115 to discuss the scope of work and how it can be handled. Our licensed electricians will be very happy to assist you in getting started on your project.