Sometimes electrical outlets fail for various reasons. If it happens, you may wonder whether it is a normal occurrence or a serious problem. A small spark may be normal but if it is large and persistent, you may need to take action. A spark may be dangerous if it is yellow and bright, lasts a few seconds, smells, or leaves burn marks. Below are the steps you should take if you notice outlet sparks, insights from a local electrician on call.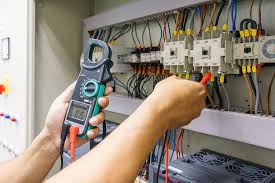 Switch off the power
Get to the circuit breaker and switch off the power. This is quite a simple task because, in most cases, the breaker panel is labeled with room descriptions and their respective switches. Sparks may occur due to moisture, short-circuiting, improper repairs, and overloading. Switching off the power may protect your appliances against damage and prevent electric shock. If you are not able to proceed from there, check a local electrician on call for guidance. When the problem is resolved, you can also consider regular electrical checkups on breakers and outlets. 
Replace the outlet
You can take a photo of the outlet and take it to a licensed electrician in your area for replacement. Be sure to buy an outlet with a similar voltage. Your electrician should be able to advise you accordingly. An outlet may be worn out or it may malfunction due to technical errors. Even if it is cheap to buy an outlet, avoid doing it entirely on your own. A plug should be wired by a qualified person who understands all the logistics of fixing outlets.
Stop using the outlet immediately
If you continue using the outlet, this could become more harmful. A broken outlet, for instance, may lead to electric shocks or even fire. If the spark is caused by frayed or loose wiring, it could lead to short circuits. Even if the outlet is working, you can get electrocuted if you try plugging in something. According to the US fire administration, two percent of the electrical fires in residential areas are caused by sparks and flames.
Contact a licensed electrician
An electrician can inspect the outlet and identify problems to avoid short circuits or other damages. It may appear easy to remove the ugly light fixture and buy a more stylish one. However, the problem could occur if you find something you did not expect. Wires may be wrongly labeled or the previous homeowner may have wired the fixture with the wrong audio speaker wire. The voltage in your home could be dangerous and therefore you should not take chances. If you are not sure of whom to call for help, search for the "best electrician near me" and you will find electricians in your area. 
Help is available
One of the safest ways to deal with outlet sparks is to look for assistance from a local electrician on call. Avoid tampering with the outlet and call the USA Electric Repairs Inc on (818) 492-4115 for help. The team of professionals here is willing and able to resolve the problem as soon as possible. USA Electric repairs Inc is licensed with vast experience and expertise.