Like humans, pets are also exposed to the dangers of electricity. Our advantage over them is that we know how to avoid getting electrocuted. But they don't. You, therefore, have to take precautions to ensure that you keep your pets safe from electrical hazards while preventing them from creating more hazards. Here are a few tips by professional electricians and local electricians on-call on how to keep your pets safe from electricity.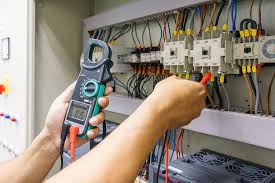 Keep appliances and cords away from your pets
There are electrical devices like heaters, free-standing lights, and fans that we often forget to switch off when leaving the house. If you have a pet and you leave these switches on, these will become potential hazards. For instance, these devices could easily fall over when your pet starts playing or just runs around then trips on an extension cord. 
At this point, the appliances become a major fire risk in your home. Prevent this by doing something about the situation. A licensed electrician will recommend that you tie these cords together then place them behind your computer or TV and to prevent your pet from getting to them.
Be especially careful with heat-generating appliances
As for safety in your kitchen, always remember not to leave any portable heaters or any other electrical appliances that produce heat unattended when your pet is around. Pets are usually excitable in your presence and would express themselves by jumping around. Eventually, your pet might knock some of these things over.
Also, don't take for granted hand-held items like curling irons or hair straighteners. Keep these out of reach when you're done using them. Pets might try to snuggle to those devices since they can't feel the difference between a straightening iron and your warmth.
Pay attention to high-powered lights
Make sure that high-powered lights like halogens in your home are always out of reach and secure when you aren't using them. The temperature generated by these lights easily reaches up to 1000 degrees and a pet burned by these can become violent or traumatized. Reach out to the best electrician near me to install these lights safely.
Create a safe zone for your pets 
You can easily prevent any electrical accidents happening to your pet at home. There are times when you have to leave your house for a couple of minutes and when you do, how safe do you think your pet will be when you leave them alone?
For instance, if you don't usually leave your dog tied or caged when you leave your house, it's a lot safer to confine them in an "electricity-free zone." A fenced area or even a whole room with no electrical devices or cords will keep your pet safe from electrical hazards.
Call us now
Residents in the Los Angeles area in need of electrical replacements, upgrades, or repairs of electrical sockets can call us at USA Electric Repairs Inc. at (818) 492-4115. We offer a wide range of electrical services to keep your home secure and safe should an electrical emergency happen. The work of our experienced electricians ensures the safety of your property, family, and your beloved pets. Call us today, we will be there to help you.