Every now and then we are in need of a 24 hour electrician Los Angeles, homeowners renovate their houses according to the latest trends or their preferences. However, the garage is often a forgotten room when the renovation is taking place. The furthest homeowners improve the external look by getting a new garage door and adding a new coat of paint. The truth is, the interior of the garage also needs some tender love and care. How can you improve the internal of a garage? Here are electrician tips on renovating your garage: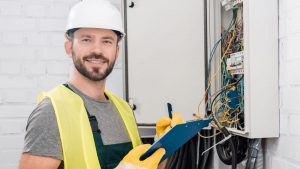 Improving lighting for workstation
If you often undertake some side projects in your garage and work at night to get them done, having sufficient lighting is very important. Without sufficient lighting, you can easily get injured by the power tools you're using for that project. Therefore, it is very important to have a bright enough light source to help when working throughout the night. You can search for the a 24 hour electrician Los Angeles to help with installing a bright enough light source overhead the workstation.
Having enough power outlets near your workstation
Another convenience that can help you work easier on side projects is having enough power outlets near your workstation. Having power outlets in close proximity omits the need to have power extension cords that might be a hassle to roll and unroll. You can get the best 24 hour electrician Los Angeles to help with installing power outlets near the workbench you're using. You can then plug all your power tools into an outlet that is within reach.
Adding heating and cooling units
If you work inside the garage, it might get very cold or extremely hot at times, so much that it becomes uncomfortable. Therefore, to try and reduce the weather elements, consider wiring in heating and cooling units. That will make working in the garage much more comfortably without being too dehydrated or your fingers freezing. You can ask a licensed electrician to facilitate these changes in the garage for yourself for a more comfortable workspace.
Electrical vehicle charging station
Clean energy is on the rise, and the number of electric vehicles on the road is significantly increasing by the day. If you are one of the first few people using electric vehicles, having a home charging station is very convenient. To make it even more convenient, you can mount it in the garage and align it with the vehicle's charging port. Doing so will make the garage friendly for the electric vehicle you are using instead of charging it elsewhere.
Contact us today for your home garage renovation project
If you would like to renovate your home garage, reach out to us for all electrical services. If you search 24 hour electrician Los Angeles, we are one of the best electricians, and we will be thrilled to handle the home garage renovation project you have in mind. Call us on this number (818) 492-4115 to tell us about the project in greater detail.