There are a number of different things that a person could claim to be proficient in when thinking about the whole realm of DIY, but we are here to tell you that electricity definitely isn't one of them. When any electrical element in your home starts to go awry, the last thing that you want to do is have a clueless dabble yourself. Firstly, it is far too dangerous to try to fix without any knowledge, and secondly, making things worse can lead to even more trouble for your home and for your finances. Of all DIY jobs around the home, anything electrical carries great risk. Here are some of the best reasons why repair of electrical equipment is best left to the experts.
Experience is a Necessity 
It cannot be underestimated how much experience counts when it comes to something like electrical repair. When so many wires and components look the same to an amateur, it is easy to see how dangerous accidents can occur. The sensible thing to do is leave the tasks to a professional who does not have to play a guessing game; they have seen it all and fixed it all, and this removes any potential mistakes that you as a DIY engineer could make!
You Need Appropriate Tools
The delicate and intricate components of electrical equipment and systems often require equally as delicate and intricate tools to fix them, and this isn't always something that can be addressed with the standard selection of wrenches and screwdrivers that you might have in your basement! Just one advantage of hiring a professional is that they have access to a host of tools and equipment that you don't, which makes every stage of their job a lot simpler and safer.
Any Repair Job Has to Keep Up To Code
In certain situations, homeowners might perform a temporary fix on something electrical that, while working, will probably not be up to code. If an accident then occurs with the electrics at fault, this failure to be up to code can have a devastating impact on any insurance claims made. A benefit of hiring a professional electrician to perform all of your required repairs is the fact they are always going to undertake the job in ways that ensures the resulting fix is definitely within the regulations.
Covered For Errors
If you fail to fix something yourself, then all that happens is that you have doubled your problem. You may even break something beyond repair. When a professional takes charge, however, all and any mistakes or complications that occur become their responsibility.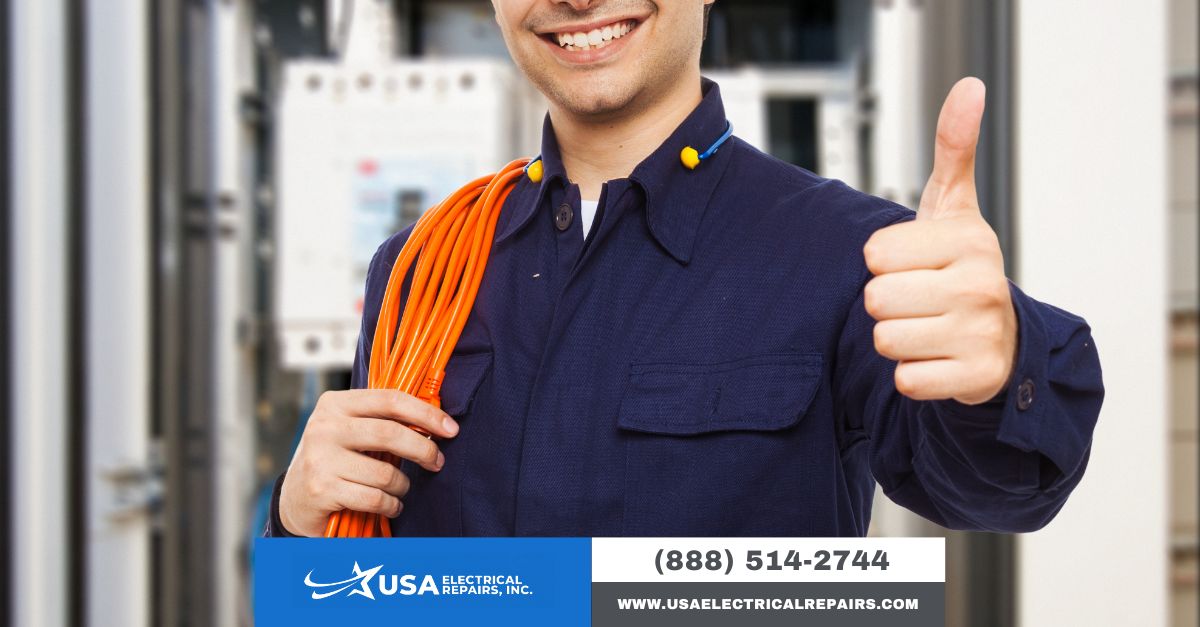 If you are in search of a professional to carry out a repair of electrical equipment, then don't hesitate to get in touch with the best in the business at USA Electrical Repairs. Feel free to contact us and one of our expert engineers will be more than happy to answer any questions that you might have. We look forward to being able to help you in any way that we can.